Precision livestock farming consists in the application of information and communication technologies to continuously monitor each animal in a farm, in a fully automatic way. Retrieved information helps in management to fulfil the basic health and welfare requirements of livestock, to early detect problems, and to improve the efficiency of production systems. Many physical variables can be monitored using sensors like microphones, thermometer, accelerometers, inertial measurement units, among others. Data provided by the sensors need to be analyzed by ad-hoc algorithms to process data and retrieve the information to help in the management decisions.
The aim of this research line is to design, develop and implement algorithms based on signal processing and pattern recognition techniques for: i) animal foraging monitoring and ii) heat detection.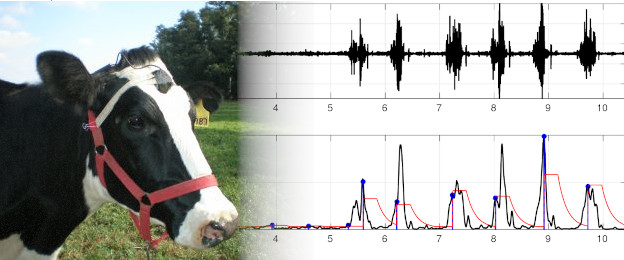 Team members
Leonardo Giovanini
Leonardo Rufiner
Diego Milone
Sebastián Vanrell
Leandro Bugnon
José Cheloti
Constanza Quaglia
Juan Carrique
Luciano Martinez Rau
Leandro Vignolo
Rafael Poos
Collaborators
Web demos
BUFAR: An online algorithm to extract detailed information of foraging behavior in grazing cattle.
RAFAR: A regularity-based algorithm designed for long-term analysis of foraging behavior in grazing cattle.
Selected publications